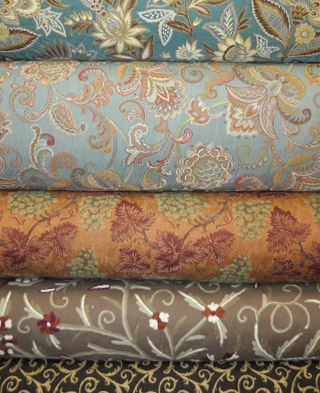 Decor Fabric
We know that, for many people, finding that perfect home décor fabric can be an intimidating task. And "overwhelming" is certainly a word we're used to hearing from customers when they first walk in the door at Osgood's. So we always team our unbeatable selection of home décor fabric with friendly, knowledgeable staff to ensure your home decorating project is completed to your total satisfaction.
Whether you need drapery fabric, pillow fabric, upholstery fabric, tassels, trim or fringe, if it exists, you'll find it at Osgood's. We're known for our spectacular selection of drapery fabric – in fact, we have 15,000 prints in stock so you're sure to find what you need in the store.
Our colossal upholstery fabric selection is the result of our many close relationships with the finest mills around the globe. We select from a worldwide supply of designer upholstery fabric and make them available to you at discount prices.
Come by and speak with one of our home décor specialists today – you'll be happily overwhelmed by our service and selection.